Unskinny Bop - 12/31/08, Redstone Room, Davenport, IA

Song history: This classic Poison cover was unveiled on New Year's Eve 2008 as part of FGC's "Rock Star Celebrity Death Match." Looking for a "rock" artist/tune to match up with Motley Crue's "Dr. Feelgood" which was already in our repertoire (see Ice Picks Edition 21), we tried some Guns 'N' Roses and Aerosmith, and even toyed with Def Leppard and Bon Jovi, but nothing was sounding quite right. Luckily, I came to the rescue with my suggestion for Poison's "Unskinny Bop," a song that I simply worshipped as an unruly young teen and whose video I would watch over and over on MTV (this was back in the olden days when MTV actually played music videos!). It was pure joy to cover this tune, and while I'm usually kind of a grumpy pain in the ass in the rehearsal room, I would light up whenever we went over this song in preparation for the New Year's show. Props to Jordan for rocking Bret Michael's lead vocals on this tune!


Adam & Jordan with silly hair -10/26/07, Dekalb, IL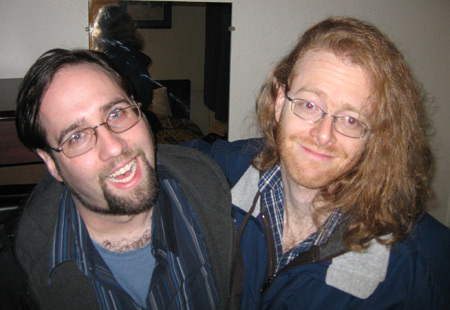 .
Photo History: It's fairly routine for Adam (left) to make himself look silly with some kind of hair or clothing alteration, as seen in this photo with his slicked-down side-parted nerdy do. However, it's rather unlike Jordan to follow suit, so capturing this moment on camera was priceless. And ladies, yes, these two studly gentlemen are single!!