Please visit the current tour blog at familygrooveco.blogspot.com, and feel free to enjoy some old-school blog entries below.
October 7, 2007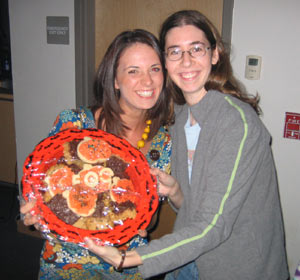 [JANIS] - Another amazing weekend hitting up Davenport and Macomb. The Redstone Room show on Friday saw a ton of support from our Quad Cities contingent as well as those traveling from Des Moines, Ames, Yorkville, Macomb, and elsewhere to see us play. A very encouraging show, and many thanks to the fans for the support! The best part of the show was our superfan, Kayla, surprising us with a huge tray of homebaked cookies and brownies that we proceeded to stuff our faces on for the rest of the weekend.
The Cafe on Saturday was our craziest yet. It was also our debut show with our new lights, which Jordan took the helm in picking out, setting up, and even RUNNING THEM while he plays his keys and sings. (Well, I got to work the fog machine!). The lights really added a lot to the experience, so we're looking forward to many future enhanced FGC shows.
September 8, 2007
[JANIS] - We're on our way to the Canopy Club for the third show of the weekend, and it's been a good one so far. Thursday in Macomb was off the hook as usual. The crowd was amazing, singing along with the tunes, dancing like crazy, and chanting "FGC! FGC!" at every possible moment. Afterwards, we enjoyed a chill hang at Melinda's house and got a fairly restful night's sleep at the Amerihost Inn.
Friday afternoon, we made the short jaunt up to Davenport, and chilled at the Baymont for a couple hours before heading over to the Redstone Room. We played a short but sweet set opening for New Monsoon and almost got attacked by the crowd for not being able to do an encore. We hung out and watched New Monsoon play, and caught up with some good friends from our Bent River days. Everyone got sloshed but me, so I did the usual drive back to the hotel.
Hoping for a third awesome show tonight!
July 27, 2007 - Dogstock, Melvern, KS
[JANIS] - How come we have such a hard time keeping this tour blog going, and does anyone actually read this??
We're just on our way back from Dogstock Festival in Melvern KS. The drive down here was long and annoying, and Kansas is damn hot in July. But we played a good set to a receptive crowd, and had fun hanging out and seeing tons and tons of dogs everywhere.
Some non music or dog related highlights from the weekend included:
Meeting the Guitar Hero crew, playing a couple rounds on their air-conditioned RV, and scoring tons of cool Guitar Hero swag.
Finding 30-cent chocolate milk at a local grocery store, and buying half a dozen bottles of it.
Eating tons of food for disgustingly cheap at a local Kansas City pizza place, courtesy of restaurant.com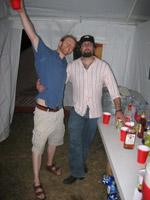 .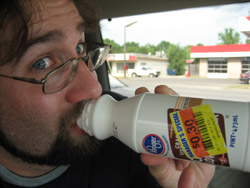 .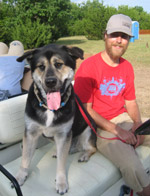 December 3, 2006
[JANIS] - This tour blog is stupidly out of date. I recently checked out 56 Hope Road's tour blog, which is also maintained by their bassist. Chad not only makes me look bad by playing his beefy bad-ass upright bass while I've only got a weenie electric bass...but he also gives daily updates in the band's tour blog. I can't show up Chad on the bass, so I'll do my best to top his tour blog. Here's the scoop on this weekend's shows:
November 30, 2006 - Bent River Brewery, Moline, IL
We made the drive to Moline without encountering a single flake of snow, contrary to the ominous weather reports. On the way, we stopped at the Dekalb oasis to fuel up and scored some sweet samples of hot chocolate. The show was good, with a smaller crowd than usual for us at that venue, but we had an excellent dancer to nondancer ratio, including some pretty awesome breakdancers. The blizzard rolled in around midnight, so we loaded out in the snow and drove at a crawling speed back to our hotel. The night clerk brought out the breakfast spread a couple hours early on our behalf, so we all went to bed full and happy.
December 1, 2006 - The Cafe, Macomb, IL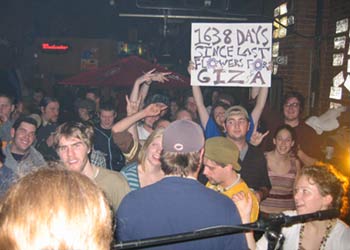 We hung out at the hotel for most of the afternoon, and then made the slow snowy drive down to Macomb. Our Macomb contingent came out in full force, despite the weather, and we had an amazing time. While we could not fully honor Smokey's request for "Flowers for Gisa" (see photo), we did throw a tease of it into "The Rattler," which was fun. (Smokey, I promise we'll get to it eventually!) After the show, we had to drive a couple hours to our hotel in Peoria. A "couple hours" turned into 6+, as the roads were still not cleared of the snow. We finally got to the hotel after 10am, and crashed for a couple hours.
December 2, 2006 - "Lafayette for Darfur" - The Lafayette Theater, Lafayette, IN
We hit the road from Peoria around 2pm, and were pleasantly suprised to find that the highways that had been covered in snow just hours earlier were now completely clear. We hauled ass over to Lafayette and arrived just in time to load our gear in before the evening got started. The show went great, with lots of kids dancing and singing along with our tunes. We had so much fun, I barely remembered I was running on only 3 hours of sleep. Many thanks to the Lincoln Street Band and their contingent for organizing the event, which raised over $1400 for the Genocide Intervention Network!!
July 12, 2006 - Guest blog entry by FGC's #1 Fan (and Oshkosh's #1 Outlaw), Zach Turicik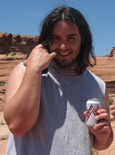 [ZACH] - Wow what a trip. It has taken me over a week to recover enough to make it to a computer to write this confounded thing down.
The trip started out easily enough with a small 26 1/2 hour drive to Cedar City in Utah. The scenery on the way was gorgeous as we crawled by it at 75 mph with the windows up and the a/c cranked. Once we got there the festie was great and so were the hotel rooms. My girlfriend Liz and I met some cool people and picked up some interesting glass art from a shop owner named Mark. After Cedar City we followed the band to Moab where they played an awesome show at a bar a I can't really seem to remember the name of or how we got to the hotel for that matter. Anyways the show rocked and getting to see Arches National Park and the delicate arch was cool but a still think they should call it Really Cool Views With Big Rocks and A Few Have Holes In Them National Park.
In Colorado Liz and I were lucky enought to be put up at the Timberlodge with the band although until then I never would have believed rock stars were supposed to be quiet until 2 P.M. and quiet time at night starts approximately whenever Janis goes to bed.
FGC put on an instrumental set outside that the rain showed up for but they also played two amazing shows at the Blue Door where they met their new number one fan Taka. When Snowmass was thoroughly rocked it was time to hit the road for a little town called Denver.
In Denver the bar we were at had some really questionable characters but the sound guy/manager/bouncer/bartender did his best to allay our fears by assuring us that they were "all doubles." I believed him when I came to in the hotel room and that was the last clear memory I have of that night.
Boulder was possibly the coolest of the shows. The crowd was cool and uncreepy, the sound was crisp, and the fans really got into it including some old people who really knew how to dance.
The ride home was long and myself taking the wrong way out of Denver didn't help but we got to see fireworks going through Omaha and Des Moines. The trip was so worth it. Thank you guys so much for having us along can't wait for 10klf.
July 4, 2006 - 2:49am - I-80 somewhere in Iowa
[JANIS] - We're coming up on hour #15 in the car ride home from Denver. A couple more hours left to go...just enough time to give a recap of the tour.
The Utah shows were fun. GrooveFest was a great little festival in Cedar City, with a killer mountainous backdrop and lots of eclectic musical acts from rockabilly to African to blues. Moab was also a beautiful city, and we even had time to stop at Arches National Park on our day off. (WOW!)
On the way from Moab to Snowmass, CO, we stopped at a gas station to fuel up and get some snacks. Afterwards, about 15 miles down the road, I noticed the gas tank was still on empty. Turns out we had prepaid $50 but forgot to actually pump the gas. We pulled a U-y and sheepishly headed back.
After Utah, we had a few days off in beautiful Snowmass at Casa de Timbers (see Adam's April 2, 2005 blog entry below), and a few shows at the Blue Door and outdoors in the village. Saturday's Blue Door show was graced by the presence of one of the famous Blind Boys of Alabama, who had a show in Snowmass earlier in the evening. Thanks for the positive feedback, Ricky!
The shows in Denver and Boulder were a great way to close out the trip, and we had a particularly good time at the Southern Sun in Boulder. Thanks to all the old friends that came out (Jesse, Jill, Michael, Brenton, Ted, and Chris) - it was nice to see so many familiar faces a long way from home.
Speaking of which, many thanks to Zach and Liz from Oshkosh for accompanying us on the entire trip, all 2500+ miles of it. They added a fun dynamic to our normally tame tour life. Here are few snippets from Zach and Liz's "How to have fun on FGC Tour" guide: (1) Get trashed at FGC shows and have sober FGC member drive you back to the hotel, (2) Play lots of PokemAn, (3) Watch lots of Deadwood, (4) Eat steak for breakfast, and (5) Bribe Janis to eat a jar of pickles for $5.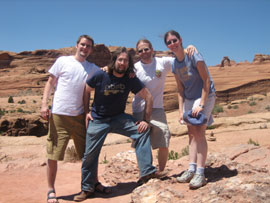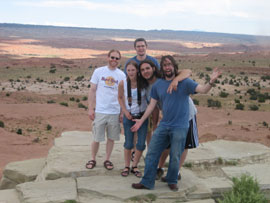 Utah, June 24-25, 2006

June 23, 2006 - 2:21am - Holiday Inn Express, Cedar City, UT
[JANIS] - Well, we just got done with the longest drive in FGC history, a 1500+ mile journey from Chicago to Cedar City, Utah. Nothing too exciting to report from the road as of yet, but we are excited for our first show in Utah tomorrow at Groovefest, rounding out our tally of states played at a whopping 29. Woohoo! Stay tuned for more updates from the West, and for now, enjoy these shots from the trip out (ps - thanks to Mom and Dad for the new digital camera!).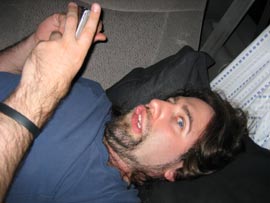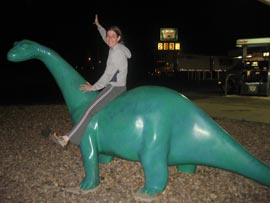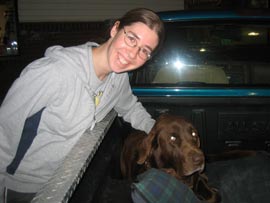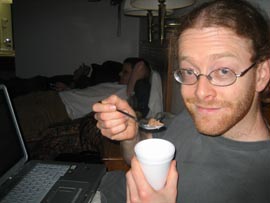 April 24, 2006 - 2:00pm - En route to Chicago
[JANIS] - The tour blog is pathetically out of date, so I thought I'd add a quick update. This weekend's shows in Wisconsin went very well. Thursday's gig at Cranky Pat's was a lot of fun - nice sounding room, good pizza, energetic crowd and a spunky cocktail waitress named Lucky made for a great night.
Friday's show was at a house party, hosted by an Oshkosh fan nicknamed Stinkshoot, whose basement was pimped out with tapestries, a full-fledged bar and VIP room, and hip lighting....but it had plenty of nasty college-party charm, complete with a few kegs, low ceiling, dank smell, and my personal favorite...a hole in the basement floor to pee in for those too lazy to use the regular bathroom upstairs. The show was fantastic - we had the whole house jumping for two 2-hour sets, and we whipped out some impromptu tunes and segways, like Rattler > Scarlet Begonias > The Charmer > Rattler. It was nice to have a no-pressure gig where we could get a little crazy.
Saturday was at the Dugout in Omro. This place was like hick bar meets hippie bar. An interesting mix of people and decorations, but overall a fun gig.
Thanks to our awesome Oshkosh and Appleton crews for coming out to multiple shows! We'll see you guys in a couple weeks at Tom's Garage!
January 28, 2006 - 4:30pm - En route to Huntsville, AL
[JANIS] - Greetings from Alabama! It's a beautiful 60 degrees and sunny en route to the last show of our Southern tour.
It's been a good run these past 2 weeks, with shows in Huntsville, Birmingham, Knoxville, Murfreesboro, and Auburn. We've been neglecting the tour blog all week, so here's a quick recap of the shows.
Humphrey's, Huntsville - Best part was playing outside in mid-January and only being a little bit cold. Two comped rooms at the Holiday Inn were a nice touch.
Bailey's, Birmingham - Dankest and smokiest venue of the trip, but great crowd. Drunk girl at the end of the night wooed a cop into letting her wear his belt for 30+ minutes (complete with gun, night stick, mace, etc).
Barley's, Knoxville - Enjoyed the only venue-comped meal of the whole trip. Threw some fun segways into the set (One's on the Way > Bird 'n' Diz > All Blues)
Bluesboro, Murfreesboro - Huge, apathetic and ridiculously drunk crowd. Had the pleasure of witnessing two girls puking on the sidewalk as we loaded up after our set.
Quixote's, Auburn - Best show of the tour. Amazing crowd, nice sounding room, and great staff.
In between the shows, we had great adventures at IHOP, Waffle House, and Panera, enjoyed 7 nights of free hotels (5 thanks to me), and came across some memorable hotel treasures like cigarette holes in the sheets, a couple nasty bugs, and a half-empty package of hotdogs in a minifridge. We also had a few near-tragedies including recovering our lost trailer lock in a Walmart parking lot, Adam driving the van away while I was still putting something away in the trailer, and Jordan leaving the back gate of the van gaping open (with guitar and bass in full view) while parked in Murfreesboro (luckily the city residents were probably too drunk to notice).
All in all, it's great to be back on the road, and thanks to all our Southern crew for making the shows so fun for us!
October 16, 2005 - 3:00pm - 94 South en route to Chicago
[JANIS] - Well, it's been quite some time since anyone's written in this thing, but who wants to follow Catherine's hilarious entry below??
We had a fantastic 2 shows in Oshkosh this weekend. Friday's show at UW-Oshkosh was a blast, and Saturday at Golf Central was not too shabby either. The crowds both nights were phenomenol and really made the shows a lot of fun. At Saturday's show, we even busted out a couple new tunes that we've been rehearsing for our upcoming Halloween show. The songs went over well on our test audience, and we are excited to reveal this year's secret movie theme at our Halloween shows in Chicago and Iowa in a couple weeks. (Note to the Oshkosh crew: Mum's the word!!)
10/14/05 UW-Oshkosh, Titan Underground, Oshkosh, WI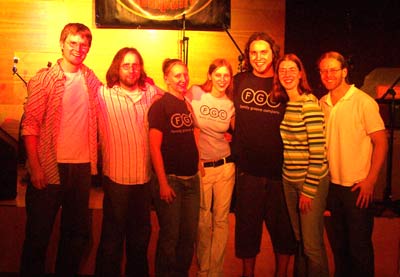 Left to right: Mattias, Adam, Lauren, Liz, Zach, Janis, Jordan
Besides the fun shows, we had a great time hanging out with the Oshkosh crew, especially Zach and Liz. It boggles my mind that a chance meeting with Zach at a show we played in South Carolina show last spring (see first tour blog entry at the bottom of this page) has developed into such a thriving Oshkosh fanbase. Plus, Zach mixes a mean drink and Liz can whip up a delectable batch of apple crisp.
In other news from the weekend, we got 4 free hotel rooms thanks to Ramada's "Best Rate Guarantee" and my shamelessness in exploiting the offer. I also scored 3 soaps, 2 bottles of conditioner, and 2 boxes of kleenex, without even having to raid the housekeeping cart. It was a quite a productive weekend overall!
September 6, 2005 - Guest blog entry by Adam's sister (who accompanied FGC on our 8/26 weekend trip to the F.U.N.K. Festival in Indiana)

[CATHERINE] - So I'm finally invited on the road with my brother's band! Woo! Me & FGC! FGC & Me! Adam calls me up and invites me to join him and the rest of the Company to Indiana for the Funk Fest of all Funk Fests! So I gear myself up. Tell all my friends, "Yeah, I'm goin' on tour with the band. Gonna see what it's like on the road! Gonna get in on some of the rock star adventure!" So I pack my things and leave work Friday in time to make it to Adam's, where I am sure he, Janis and Mattias will be just as pumped as I am, running around tuning instruments and whatever else rock stars do. I arrive at their place and Janis lets me in. I come bounding in, ready for the action. However, the only one getting any action is Janis' waffle, which she is apparently punishing by covering it with peanut butter. Who does that?!

Bleary eyed, Janis informs me that no one else is actually awake yet. Not exactly the excitement I was anticipating, but they are rock stars. They were probably up all night drinking, swearing, and being raunchy. Yeah, that's it.

Mattias comes upstairs next, and proceeds to smear peanut butter on something equally inappropriate. These guys put peanut butter on anything, except for Adam, who doesn't like peanut butter at all. They are just weird about peanut butter.

Adam comes out in a towel. Now, I guess this may have equaled rock star to some, but he is my brother, so it was just weird.

Jordan arrives and we pack up the trailer with food, pillows, more food, and a few instruments. This isn't just any trailer, though. It is a magic trailer. It puts a sleeping spell on anyone who enters it. Within minutes of our exciting rock star trip on the road, everyone is sleeping. Except for Jordan, thank God, because he is navigating.
I wake up hours later and we are at a gas station. Now, for those of you who don't know, Janis HATES pennies. Can't stand 'em. (I think someone beat her with pennies when she was a child.) So, as is ritual, she yells to Jordan how many pennies she has to get rid of, and he fills up the tank accordingly. The rest of us grab something to eat and relieve ourselves. After 15 minutes of not really doing anything, we go back to the car where Jordan is. It is then that he decides he's hungry, so we all wait another several minutes. It's 2:30 p.m. by now, and no one is drunk yet. I'm disappointed.

So after more driving, we arrive at the Super 8. Janis got us the Super 8 reservations for free by finding an offer online for a room 1 penny cheaper than the room advertised on the Super 8 website. This is ironic, considering her hatred of pennies. So we check in and head to the show.

The festival is fun, but I feel a bit out of my element. As FGC plays and the crowd forms, I stand at the merch table and smoke cigarettes. I must not have looked like I was funking it up, because a hippy girl walks by and shouts to me; "Hey! You dropped your smile!" And she gives me this big grin. It took all of my self control not to inform her that she dropped her black eye, and then help her find it. The band played a fabulous set, with people dancing all over the place. It was a good show for the Indiana fanbase. Poor Mattias had a migraine the whole show, though. Janis and her Tupperware to the rescue, Mattias had an emergency boof container on stage just in case he needed to puke. Aww.

So we stuck around for a while after the show, and then went back to the Super 8 where a cute girl was hitting on Adam. I'm assuming she mistook him for a real rock star. Then we all hit the sack.

We woke in the morning, rushing to get out in time for checkout. The excitement of the whole trip reached its pinnacle shortly before checkout. Mattias was looking behind his bed, for some reason, and discovered…are you ready?....
A cigarette and a used condom. My favorites!

We stopped at a Walgreens where Janis immediately found a coupon for .39 cent bottles of water. Again with the change. She paid for hers with 39 pennies. Then we headed back to the Fest to enjoy some tunes. I foolishly informed Mattias of my run-in with the hippy last night, and, obviously feeling better, he spent the better part of the afternoon informing me when I dropped my smile and pointing to an invisible smile on the ground. Fun.

We weathered the sweltering heat and humidity to do some promo, and then got back to the trailer just before it started pouring outside. The magic of the trailer put us right to sleep. I didn't wake up until we reached a Taco Bell. Janis, somehow, materialized coupons for Taco Bell. Either she is a coupon fairy, or the biggest dork I have ever met. But no no no, just coupons weren't enough. As we put in our order, confusing the crap out of the cashier with Janis' vegetarianism and my low-calorie requests, I attempted to order a drink. I was silenced by Janis, however, before I could get it out. "Shhhhh!" She was pointing to a sign that said if our cashier failed to offer us a drink with our order, the drink was free. The cashier, who we had obviously pushed to indifference, gave us all free drinks. We managed to feed three of us for approximately $6.

At a gas station hours later, Janis informed me that she stole a dime out of the take-a-penny-leave-a-penny dish. I'm pretty sure that's against the rules, but how else is someone who hates pennies going to ever get anything out of those dishes? With all the pennies she has given, she no doubt earned a dime…

And back home we went. There wasn't any drinking. There wasn't any sexing. There was a disappointing amount of swearing. But FGC isn't about that. They're about the music and the fans. They played their best, migraine and all. They spent time talking to every fan who approached them. And they stuck around to listen to other bands play. Was it what I expected? No. Would I do it again? Probably not. Does Janis know how to save a penny without actually having any pennies? Damn straight.

July 23, 2005 - 6:15pm - I-26 East somewhere in South Carolina
[JANIS] - Day 3 on our Southern Summer Tour. Note to self: Southern + Summer = HOT. But thankfully, we are running the AC in the van, so my bitching is curbed for the moment.
Our show a couple days ago in Huntsville AL went very well. We met a nice group of kids, including Lindsay, Nathan, Susan, Danny, Grant, Rikhaya, Eric and others, who were all very enthusiastic and supportive, dancing, hollering, and buying tshirts like crazy. This show also marked the debut of a new song (untitled right now), whose first performance went remarkably smoothly. We had a great time overall, and hope to make Crossroads one of our regular stops when coming through the area.
Last night's show at Barley's in Knoxville was alright. The coolest part of the night was being surprised by an old friend, Elliott Easterly, whom we haven't seen since 2001. He snapped some cool photos in the second set:
FGC @ Barley's Taproom, Knoxville, TN - 7/22/05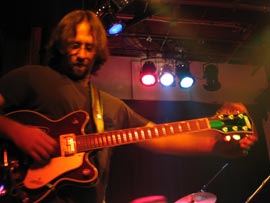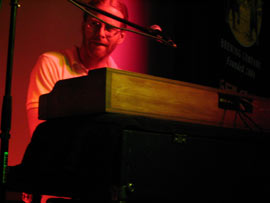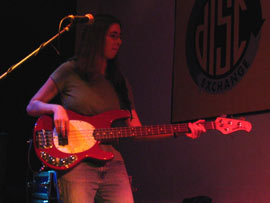 Photos by Elliott Easterly

In other random tour notes, we just found out from Jordan (whose mother is English) that in England, the mid-day meal that we call "lunch" is actually called "dinner" over there. If this is such, that would make "brunch" an inappropriate word. Adam has concluded that the meal between breakfast and dinner in England (i.e. the normal "brunch") should be called "dikfast." It is important matters like this that consume our thoughts on these long car trips.
June 16, 2005 - 4:30am - Days Inn, Cincinnati, OH

[ADAM] - What I ate today:
A Bagel, Jalapeno Poppers, Super Hot Fire Wings, Pizza, A Cheeseburger from Wendy's, Oreos, A Pop Tart, Baked Ruffles, and an Orange Slice.

June 5, 2005 - 2:30am - Wallin's Living Room, Lemoyne, PA
[ADAM] - I'm exhausted and my fingers are killing me.
As we pull up to Monopole, the first venue on our trip to the Northeast, the manager comes out to the van to meet us and says, "Go ahead boys, load in through the back stairwell but be careful, there are some pigeons nesting back there." So I say "No problem," without any real idea of what nesting means, and head to the stairwell to open up the doors to begin loading. (Some of you may know this, but for those who don't, I have this weird fear of making eye contact with a squirrel or rabbit or any wild animal because I think by making eye contact with it I've given it the OK to charge me and bite the hell out of my shins/kill me.)
Anyways, I get to the back door, open it up and search around for a nest. As far as I can tell there is nothing in this stairwell that resembles a nest, but there is an ungodly amount of bird shit and the wonderful stench that accompanies ungodly amounts of bird shit. So I say screw it, the nest must be up in the rafters or some place that I can't see. I look around for something to prop the door open with so we can begin loading and
conveniently enough there is a cardboard box right next to the door. I grab the box and mildly violently yank it in front of the door and let the door slam into it.
It's at this point that I realize that there is a huge pile of feathers and broken eggs and bird shit and some kind of substance that probably once resembled a nest lying in the spot that the box used to be sitting in. I freak out. I mean, making eye contact with a wild animal is horrifying enough but agitating them by destroying their home is at least pi(3.14159265) times as bad. So I try to shove the box back into its original resting spot and that's when I notice the big sign on the front of the box that says "Nesting Pigeons. Please DO NOT Touch".
Needless to say the box has become immovable, partially due to the weight of the hundreds of bird carcasses that I've left in my wake that fill the cardboard box, but more so due to my complete and total loss of ability to use my arms because I every time I touch the box I can feel the birds shaking around in their new coffin. I bolt. I find the manager to tell him the box looks like it has been disrupted, most likely from the band the night before, and to see if we can load through another entrance.
We had a great Saturday. Very relaxing. Played some baseball out by Saranac Lake, enjoyed some lunch, had a good gig with a decent crowd and got paid well. After the gig we drove three hours to our next hotel and came within miles of running out of gas at 5AM on a Sunday in the middle of the country in upsate New York. We finally got to bed at 7 and woke up at 10 to make it to a festival by noon. The turn out was pretty good at all of the gigs so far and we've made a bunch of new fans on this trip. I'm currently sitting at Janis' parents place in PA watching some tv and am looking forward to taking the next 3 days off.
June 2, 2005 - 9:30pm - I-90 East near Erie, PA
[JANIS] - It's been awhile since I've gotten my blog on, but this is the band's first major trip since April. After about 10 weeks of virtually constant running around the country in the early part of the year, we spent most of May close to home, with a weekly Chicago gig at Wise Fools Pub, and a couple short trips within a few hours of home.
Today we embarked on a 10-day run through upstate NY, PA, and WV. We've got a grueling 14-hr haul to make it to the first show in Plattsburgh NY tomorrow night, but so far everyone seems to be passing the time well here in the van. I listened to some new downloads on my mp3 player and did some work on my laptop. Jordan read his dumb Star Wars book and spent a lot of time on the phone. Mattias took a long nap in the back seat, and then assembled a couple hundred live CDs. Adam obsessively worked on one of his logic puzzles and enjoyed the fountain soda he "borrowed" from the Hardees we stopped at. Eight hours down, and still no one has put a CD into the stereo. We must be the only band out there that drives in silence.
Not much to report at this point in the trip, but stay tuned for further (hopefully more exciting) commentary as we head into the great Northeast!

April 23, 2005 - 2:30pm - My own room!, Chicago, IL
[JANIS] - Well, this blog this is getting a little out of date, so I thought I would put in a quick update, even though we are not on the road at the moment.
Our quick southern run in Mississippi and Alabama the past couple days was fun. It was great to be in the warm weather for a few days, and the shows were good on the whole.
A couple highlights of the trip were:
-Playing with Moonshine Still in Huntsville, AL. What a great band and a great bunch of guys. They are tearin' it up in the South and at a bunch of festivals this summer, so I urge you to check them out and catch a live show. They are fantastic!
-Getting our hotel in Birmingham for FREE because they shut off the water for 4 hours and we couldn't take showers. We then blew half our savings at the nearest Quizno's and ate like kings (and a queen)!
-Adoring the cute little shirt and tie that Mattias can make by folding a dollar bill. (I think they teach you that in the Swedish army.) Even better was Adam's retort to Mattias' folded masterpiece: "Mattias, you're a day late and a dollar shirt." How classic!
All in all, a fun trip, but we are all glad to be home...for a few days at least. :)
April 2, 2005 - 11:08pm - Sitting very comfortably (besides being a little short
of breath) at Timbers in Snowmass, CO
[ADAM] - Today is one of the most anticipated days in the Family Groove Company
Year.
You're probably asking yourself what could be so exciting. Is FGC opening for the Beatles today? Are they getting paid $30,000 for an hour long radio interview this evening? Has Miles Davis been miraculously reanimated and decided to pursue life as the fifth Family Groover this afternoon?
If you had thought any of those thoughts, you'd be way off target. Today's event is much more exciting than any of those outlandish guesses you've just made. So as to not waste any more time getting to the point, and to not belabor the point any longer, I shall tell you what makes today so incredible. Today, my friends, is the first day of our week long residency at Timbers. For those of you who don't know, Timbers is the location of the Wilkow Family retreat in Snowmass, CO and when we tour through the area they (the Wilkows) are always generous enough to put us up here.
So what's so special about Timbers you say? Well, let me tell you. You see we spend a lot of time together and after about a month and a half of driving 4-6 hours a day within a 2-3 foot vicinity of each other, then getting on a stage and performing within a 3-4 foot vicinity of each other and then going to a single 10'x12' motel room with only two beds and sleeping within a 4-6 inch vicinity of each other, WE GET A LITTLE TIRED OF ONE ANOTHER.
Which brings me back to Timbers and why it's so great. Here we stay in a beautiful, essentially 3 bedroom apartment with marble counter tops, three bathrooms, and seeemingly light years of space between one another. There are amazingly comfortable beds, hot water every morning and a kitchen stocked with food. I've got to tell you this beats the pants off shower drains filled with Ramen noodles, previously used pieces of bacon sitting in our fridge and African Jumping Mosquitos bouncing above our heads while we sleep making a noise not unlike a jackhammer being thrown into the raging propellor of a NC-4 Transatlanic Navy Seaplane.
To sum things up, we are living the high life here. The weather is always beautiful, the skiing is extraordinary, and our peace of mind is plentiful. Our tours through Colorado have quickly become to feel like vacations due to luxury and comfort we're offered by the Wilkows and Timbers.
On the music scene the road has been treating us wonderfully. We had a knockout gig over at Byron's place in Pomeroy IA on Sunday March, 27. We had so much fun at the gig, that after a quick pow-wow with the big man, we decided to stick around another day and play Monday night as well. We made a bunch of great friends over the course of our two day stint out there, most notably Leonard, the Kaleidoscope guy. After that we hit up Dulcinea's in Denver and played with a great local group called Polytoxic. They were a giant ball of energy and kept the surprises coming all night. Yours truly even sat in for a rocket fast version of "Feelin' Alright" (see photo below). Thanks Tori, Chad and CR for all the fun Wednesday night.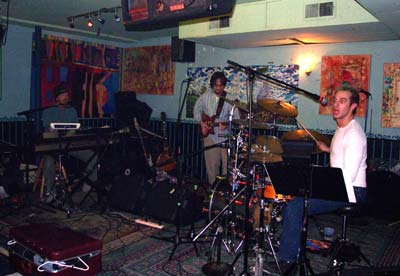 The promoter of our gig at Classics in Colorado Springs, Mike Stepp, took every measure to make us feel like family. He offered us dinner before the gig and a place to crash for the night. When we arrived too late to take him up on the dinner offer, his wife brought the food down to the gig. He then had us over the following morning for a huge CS style breakfast full of everything a man could ever ask for. That sort of kindness and hospitality is hard to come by on the road and goes a long way towards making us feel at home - Thanks Mike.
Which brings us to the present. We are soon to be well rested and are eager to get to the next couple of gigs. We've been fine tuning the new website and Janis has pet 5 dogs in the last 2 days. Can one ask for more? Life on the road is good.
March 20, 2005 - 11:45pm - Somewhere on I-90 Westbound in Indiana
[JANIS] - We're finally homeward bound after a grueling 8 shows in 7 states in 10 days. I can't wait to get out of this freakin car.
Our last couple shows were fun. At our Blacksburg VA show on Friday, the talent buyer comped us a hotel room at a sweet Holiday Inn. As if the nice accomodations and wireless internet weren't enough, the venue we were playing at was actually attached to the hotel. So nice to walk 100 feet from the gig to our room! The show went well, despite a very tiny stage and an initial clusterf**k getting our gear set up - had a decent-sized crowd dancing from the very first tune and met a lot of nice kids.
Our PA show last night was a success as well. I got to see some family and old friends, and we saw a lot of familiar faces from our last few shows in PA, which was encouraging. Special thanks to Trent and Lea for making the trek down from Bethlehem - you guys rock!
Home to Chicago in a couple hours, and then off to Colorado in a couple days. All in all, I give the Southern tour a tired thumbs up!


March 17, 2005 - 6:15pm - Somewhere on I-77 Northbound in North Carolina
[JANIS] - Ahh, my first blog entry. Everyone else in the band seems to think this tour blog is a dumb idea, but I will prove them wrong. People are gonna love this thing!
We're having a great tour so far. Virtually all of the shows have been a success - receptive crowds, good merch sales, nice people, we've played well, etc. I think the South is going to be our new favorite place to travel to. The weather hasn't been as warm as we would have liked, but hey, it's been above freezing, so we'll take it.
A couple interesting notes so far:
At our Brandy House show in Atlanta, the venue's proprietor, the crazy Doctor Eddie Fox, didn't have much in the way of money at the end of the show, but he sent us off with a bag of raw potatoes, 4 dinner rolls, moist towelettes and a cantalope. We couldn't have been happier.
At our Pour House show in Charleston, SC last night, a very enthusiastic kid from Wisconsin (Zach) purchased 10 copies of our album. I think he set a new record, and we certainly appreciate his support. If only the money we earned from our big sale could have bought the soundboard CD recording of our first set (which the owner, Alex, somehow misplaced amongst hundreds of other unlabeled CDs).
Mattias drove for the first time in FGC history on this trip. We're all very proud of him, and I'm certainly looking forward to shoving all my driving time onto his shoulders. Still haven't had to take a turn on this trip - woohoo!
Anyway, that's the scoop for the first blog entry. Stay tuned for more reports of FGC's adventures on the road!