11/26/06 - Victor Wooten and Janis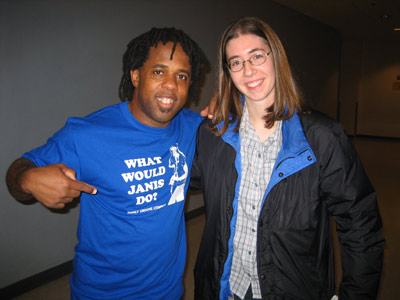 Photo History: I had the pleasure of attending Victor Wooten's show in Harrisburg PA while home in the area for Thanksgiving. For those of you not familiar with his work, Victor Wooten is internationally known as the end-all be-all of bass players, winning multiple Grammy's and countless other awards in the music industry for his work on the bass.
I made Victor's acquaintence earlier this summer at his F.U.N.K. Festival, when he caught FGC's set and later introduced himself to me. Since then, I was thrilled to get an invitation to perform with him in Myrtle Beach, SC as part of his Bass Extremes Workshop, and I'm very happy to have had a chance to get to know him better.
After the show in Harrisburg, Victor surprised me backstage by coming out of his green room wearing the WWJD shirt I had given him earlier that day, and proceeded to show it off while signing autographs for his fans. As far as I'm concerned, it really doesn't get any better than this!!
Shameless plug: Be cool like Vic and order your very own WWJD shirt right here on our site! ;)