Radio Interview , 9/23/03, "Live Live" 1670AM, Allston, MA
Clip history: What drove the members of FGC to pursue music? How the heck did they end up finding each other? Find out in this riveting interview during the band's first Northeast tour in the fall of 2003. Over 17 minutes of honest, unadulterated, uncensored FGC! Well, maybe just 5 minutes of that....the remaining 12 is Jordan babbling incessantly about one thing or another... :) Just kidding Jordan - you're a great band spokesperson (just a very long-winded one!). You can hear the other two segments of the interview on Live Live's website.


Adam & Mattias, 9/25/03, Nectar's, Burlington, VT
Photo history: This photo is also from the band's Fall 2003 Northeast tour, snapped at the very famous club in Burlington where Phish got their start a few decades ago.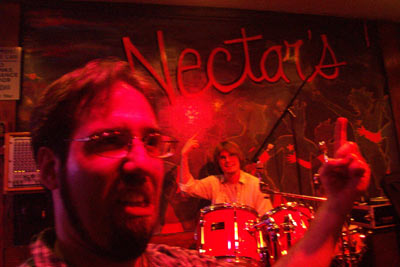 Send your "Ice Picks" suggestions and requests to: janis@familygrooveco.com
-Back to the current Ice Picks page-