Rumba , 6/19/01, Blind Melon's, San Diego, CA - stream / download
Song history: Ahh, another clip from the vault! This mp3 is the second track on FGC's first official live CD which was released in July of 2001 and was spread like crazy on the West coast. "Rumba" was written by Adam and was a staple in the repertoire of early FGC. This tune showcases Adam's songwriting abilities, and this particular recording captures one of the rare times that he actually played the melody correctly! Sadly, according to FGC's setlist archive, "Rumba" has only been performed 6 times in the last 2 years, the last of which was June 2003. We don't anticipate an official comeback of "Rumba" into regular rotation, but perhaps we'll surprise audiences with a sloppy rendition of it in the near future. Look out!


FGC License Plate, 10/1/04, The Days Inn, Macomb, IL
Photo history: We took this photo just a couple days ago outside our hotel in Macomb, IL. Nice!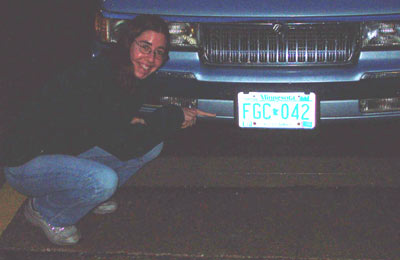 Send your "Ice Picks" suggestions and requests to: janis@familygrooveco.com
-Back to the current Ice Picks page-