Sabrina Waits, 11/18/04, Wilbert's, Cleveland, OH - stream / download
Song history: Jordan wrote this tune a little over a year ago, and we first played it live on 8/15/03 in Aspen, CO. It's one of FGC's more "poppy" numbers, but ironically enough, the lyrics poke much fun at the pop music world. It's one of my favorite FGC tunes because of its cool chord changes, snappy lyrics, and overall conciseness.
This performance of "Sabrina Waits" at Wilbert's is particularly pertinent, as we are currently in the midst of releasing the show as our latest "official" live CD. Conveniently enough, allow me to plug the fact that we are now offering our live samplers for sale on the Merch page, for a nominal fee ($1.00!) that basically covers the cost of the disc and the postage.


So many Adams, so little time: Adam and Look-alikes, 1/24/04 & 12/2/04
Photo history: We feel so blessed with our one Adam, that it's always a glorious occasion when we run across another one. Actually, it's quite disturbing, but so far our "Alternate Adams" have been nothing but the nicest of people, and we appreciate their good senses of humor and their support of the band. Who knows, maybe they will be called to do Adam's nude scenes when he scores his first movie deal..?!?!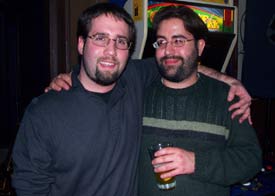 1/24/04 Plank Road Pub, Peoria, IL
12/2/04 Canopy Club, Urbana, IL