Bust a Move, 9/14/07 New Earth Festival, Fall Creek, WI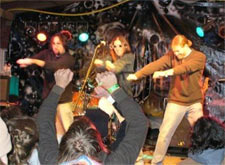 Song history: Keeping with the rap trend of the last edition, this Ice Picks features the sophomore appearance of MC Ice, this time doing a version of Young MC's "Bust a Move." The drum breakdown you hear about halfway through the song afforded Adam, Jordan, and I the opportunity to showcase our very white dancing skills (see photo at right). For an even more in depth look at us embarrassing ourselves, check out the video of our "Bust a Move" performance from the Strip Mines Festival which is available on YouTube.


9/2/07 - FGC Sign, Strip Mines Festival, Murphysboro, IL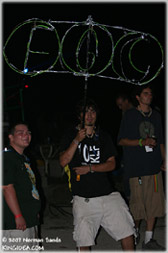 .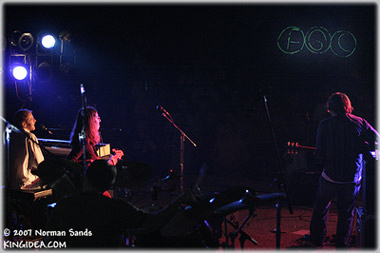 Photo History: FGC's new favorite fan, Kevin Girard, surprised the band at the Strip Mines Festival with an intricate FGC sign hand-crafted from wire and glowsticks. For the entirety of our set, Kevin danced out in the crowd, bobbing the glow-in-the-dark sign high above. Thanks to Norman Sands for the photos!