Every Time You Shake It > Funkytown > Every Time You Shake It, 10/20/07 Eau Claire, WI

Song history: The day before our performance in Eau Claire in October, local superfans Dan and Jentz presented the band with their dream setlist for the show, which included a healthy dose of their favorite FGC originals, some rare covers, and other twists and turns. The highlight of the setlist was "Every Time You Shake It," segwaying into the disco classic "Funkytown", going back into "Every Time You Shake It." Not the type to step down from a challenge, we played the setlist song for song that night (well, about 95% of it), including the crazy "Funkytown" interlude. Many thanks to Jentz and Dan for all their support! (For those wanting to skip to the good part, "Funkytown" begins at about 3:25 in the mp3 above).


FGC with Anna and Blanket, Eau Claire, WI
.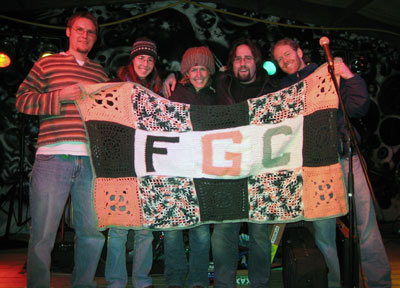 Photo History: Another Eau Claire fan gets spotlighted in this edition's Ice Picks! One of our favorite Wisconsin gals, Anna, spent months crocheting us this amazing FGC blanket. The band was very touched and thanks Anna for all her support!